Background
Microtubules are filamentous polymers composed of α- and β-tubulin and together with actin, intermediate, and septin filaments, constitute the cytoskeleton. Microtubules organize the cell's interior and mediate essential processes such as intracellular transport and the segregation of chromosomes during cell division.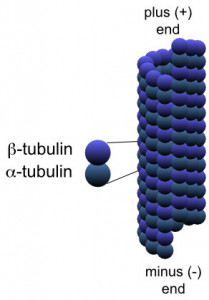 To carry out these functions microtubules need to be properly arranged into arrays with specific shape and orientation. Two mechanisms are key to achieving this: spatial and temporal control over the formation of new microtubules, a process termed nucleation, and the attachment of microtubules with one of their ends to cellular structures collectively known as microtubule organizing centers (MTOCs). The surfaces of various organelles such as the nuclear envelope, the Golgi, or centrioles, can function as MTOCs by recruiting proteins that provide microtubule nucleating and anchoring activities. Centrioles are particularly important for the microtubule cytoskeleton, since they do not only function as MTOC (known as centrosome) but are also required for the assembly of cilia. Cilia are elongated, membrane-enclosed structures that project from the cell surface.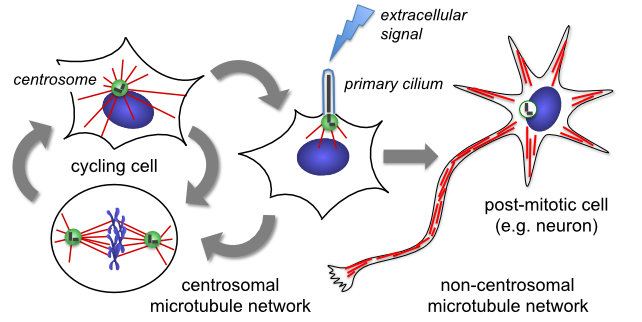 They can be motile and used, for example, for clearing mucus from the surface of epithelial cells in the trachea of our lungs, or immotile, functioning as sensory organelles that receive and relay extracellular signals to the nucleus, to regulate gene expression. Mutations in genes encoding proteins that constitute or regulate the function of microtubules, MTOCs or cilia can have severe consequences and have been linked to a range of diseases including neurodevelopmental and neurodegenerative disorders as well as cancer.